December Reflection 2014
Waiting in Hope
It is said that we spend ninety eight percent of our lives waiting for something else to happen to us. Only rarely do we find ourselves inside what Henri Nouwen called a Fully Pregnant moment. "Right now I don't want to be in any other place with any other people or doing anything other than what I am doing right now."
We are always waiting. In that sense we are always in ADVENT. Waiting patiently means "Living in the present moment."
"Good is the Lord to one who waits for him, to the soul that seeks him. It is good to hope in silence for the saving help of the Lord." Lamentations 3: 25 -26
"How do we wait for God? We wait with patience. What does this mean? It is an active waiting in which we live the present moment to the full in order to find there the signs of the ONE we are waiting for." Henri Nouwen "Waiting with Patience."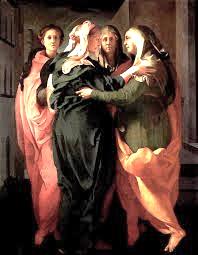 What was the waiting like for Mary and Elizabeth?


What is it like for all the people who appear daily on our TV Screen who are affected by war and injustice?
This Advent we pray for those in the most broken places of the world and with those who struggle to be bearers of Hope. We pray with those who wait for war to stop, for violence to cease. We ask for conflict to be turned to peace and anger to reconciliation so that the waiting may be over and all things of darkness shall be no more.
"Put your whole confidence in God.
He will never see you want for means to do his work."
Catherine McAuley
Sister Mary Gorman rsm