June Reflection 2016
Catherine McAuley and the Heart of Jesus
'What would our world be like if it was left to itself without mercy, that is to say, without forgiveness, without generosity and without love? Mercy is all of that. And even more so as it comes from God, as revealed by His Son Jesus Christ, by associating Himself with sinners, by being close to the poor and humble, to those who suffer and those who lack hope. Mercy is described as the "willingness to enter into the chaos of another's life," just as Jesus Christ entered into the chaos of humanity through redemption and still enters into our lives today.'

James F. Keenan SJ (The Works of Mercy: the Heart of Catholicism)

These words bring to mind the feeling we might sometimes get when we watch the News these days – a feeling that says the world is in chaos. What will become of humanity? So many suffering from so many other people's violence or greed; so many fleeing from what was once their home, their sanctuary and their ordinary routines of daily life that we can take for granted.
In this Year of Mercy and traditionally in the month of June, the Church reflects on the Heart of Jesus – an unstoppable fountain of mercy and compassion. We have his own words in the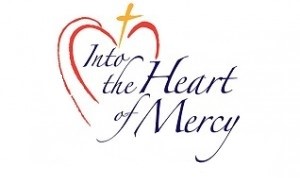 "I feel sorry for all these people; they have been with me for three days now and have nothing to eat. If I send them off home hungry they will collapse on the way; some have come a great distance." (Mark 8:1-3)
Television news or not, as we read these astonishingly human, compassionate words, we can see on the inner screens of our own minds those who are hungry for safety, shelter, food and acceptance in 2016. Was the Gospel ever more relevant?

In her Poem 'Kindness', Naomi Shihab Nye of Colombia ends:

"Then it is only kindness that makes sense anymore,
only kindness that ties your shoes
and sends you out into the day to mail letters and purchase bread,
only kindness that raises its head
from the crowd of the world to say
It is I you have been looking for,
and then goes with you everywhere
like a shadow or a friend."

(from the book 'Soul Food')

Catherine knew the compassion of the Heart of Jesus and mirrored it in her relationships in Community and beyond and in her ministry to the poor of her day.

She teaches us still: "In order to study Jesus Christ you must make yourself familiar with His charity in word and work…"

+Spirit of our merciful God, hover over the chaos in our still wonderful world today. Make us channels of Your compassion to those most in need. AMEN

Maureen Murphy rsm