September Reflection 2014
Life is a Journey
"Its not what you do once in a while,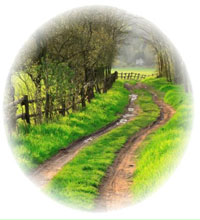 it's what you do day in day out that makes a difference ..."
Life is a Journey, a fragile chain of experiences held together by love. Each of us is a strong link in this chain. We ask the Holy Spirit to strengthen those links as we share our daily triumphs and struggles.
Catherine McAuley, in her decision making, had great trust in the Providence of God and a profound trust in God's Mercy. It is in this trust, as women with compassionate hearts, centred on God and strengthened by our love for one another, that we too will be faithful to our Journey of Mercy.
We are all familiar with Archbishop Romero's words:
"We cannot do everything, and there is a liberation in realising that
this enables us to do something and do it very well..."

"We are workers, not master builders; ministers not Messiahs."

"We are prophets of a future not our own"
Geraldine Lawlor rsm