Spirituality of the Sisters
Today, our life is about: Community and Commitment. The Sisters get their inspiration and strength from their spiritual life. Faith and Prayer is central to our life of dedication to Mercy and is at the heart of everything the Sisters do.
We are committed to living community based on:
Gospel Values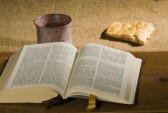 Catherine McAuley was imbued with the Scriptures during her time in Coolock when she read and prayed with Catherine Callaghan in Coolock. She internalised the Word of God and reflected that in her life. We too as Sisters place the Word of God at the centre of our lives.
Mercy Spirituality
Catherine's deep faith in God who is Mercy, and her experience of the pain of poverty, shaped her prayer and, in turn, her prayer shaped her ministry. Mercy spirituality is based on this life long journey of discovery of the Mercy of God, which is so often found in the lives and struggles of all people today.
Mercy is the journey of our lives.
Prized more highly than gold,
Costing the donor nothing,
Patience in hearing their woes,
Looking with eyes of compassion,
Kindness in word and deed,
Praying for every need,
This is mercy to all,
As it was and is now,
This is mercy to all,
As it was and is now
(Based on Venerable Catherine's words by Sister Maureen Murphy)
The Congregation's Motto
"My Legacy to the Institute is charity: if you preserve the peace and union, which has never been violated among us, you will feel a happiness that will surprise you." Venerable Catherine McAuley