January Reflection 2016
THE DOORS OF MERCY

During the last month, we have read and heard much about the opening of the Doors of Mercy. We all have experiences and memories of opening doors as well as waiting at doors for someone to open them to us:-
Opening the door with excitement to welcome a family member or friend.
Waiting with anxiety at the sick person's door.
Opening the door not knowing who is going to be there.
Waiting patiently for the person who is disabled to open the door to us.

As we begin the New Year, we are very aware of the many people, who are waiting for us to open our doors of mercy to them. Among those are:-
The lonely and the isolated.
The sick and bereaved.
The homeless and the vulnerable.
The refugees and those fleeing violence.
The list is endless and we recognise that each of us can only do a little, but the links in the chain of Mercy can be very powerful and can reach out to many people. We have no better example of this than in our Foundress, who opened her heart and the door of Baggot Street to the people who needed her most,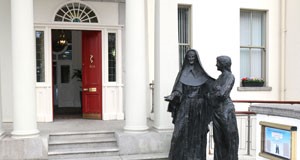 "Mercy is the principal path pointed out by Jesus Christ to those who are desirous of following Him…to instruct and comfort the sick and dying poor, as in them they regarded the person of Our Divine Master."

Catherine McAuley

The chain she began continues to link people and ministries all over the world.
Let us pray during this year that we will rise to the great challenge of opening our hearts and our doors to those waiting for our love and mercy, remembering the words of Pope Francis,

"The mercy of the Lord is the best thing we can feel: it changes the world. Let us allow our hearts to be touched. Let us allow ourselves to be warmed by the tenderness of God."
Marie O'Dea rsm